SITE AWARDS
---
CONGRATULATIONS! Your website has won: 1second.com - Web Excellence Award.

After a pleasant visit to your site we've concluded that it deserves to be awarded our "Web Excellence Award". In our opinion your site has a special appeal that demands recognition. Great design, content, accessibility, and relevance to the Internet community, were the major factors in our final decision. Statistics indicate that Web Excellence Award is presented to less than 1% of all reviewed websites.

Good luck with your great site!

Regards,

08/29/99
---

The Sales Professional Award

Like many others on the Web, we are discriminating surfers, selective about the quality, content and type of site we spend time at. In reviewing your site I have found it to be worthy of attention. You should be very proud of the work you have done. Thanks for helping make the Web a more interesting and attractive place to visit.

08/30/99
---
Dear Henryk:

The WriteTechnique, Inc. is proud to present you with the Award of Excellence. We found your site to be well designed, visually interesting and very easy to navigate. Your site is a credit to the Internet community. Congratulations on a job well done!

The award graphic is included in this email as an attachment. We would appreciate it if you would link the award back to our website at http://www.wt-webdesign.com. Please note that you are not obligated to link back to us.

Thank you for the opportunity to view your very creative site.

Sincerely, Lou Dillon, President The WriteTechnique, Inc.

08/31/99
---

Congratulations! Your web-site has been reviewed and chosen to bear the 1999-2000 Golden Web Award.

The International Association of Web Masters & Designers

09/15/99
---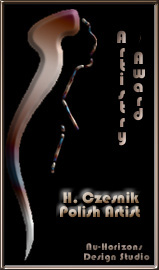 We are pleased to give you the Nu-Horizons Design Studio's Art Award. We applaud your site's interaction, unique graphic applications and invaluable in-depth content. Keep up the excellent work.

Regards,

Lynne Miller Nu-Horizons Design Studio

10/05/99
---
Congratulations! The editors of the 4anything.com network have chosen your site as one of the best of the web within your category. We believe that your site provides great value to our 4anything users! Hopefully, our link to your site is driving valuable traffic.
Our editors prioritize the most useful and relevant web sites, constantly refreshing their selections. As a result, users get fresh, relevant information on the first page of search results.
Congratulations again! We wish you continued success.
Sincerely,
The Editors at 4anything.com
10/12/99
---

Congratulations from the Surreal Web Site Award! We have reviewed your site and were impressed with it's content, creativity, and overall benefit to the web. Therefore we are pleased to honor you with this Surreal Web Site Award. Please take a moment to view the link to your website on the Surreal Award Winners page at http://www.surreal-award.com. This link will remain on the Winners page until the end of the month, when at that time, the entire page will be archived.
Thanks for your great contribution to the web.
11/02/99
---