1AmericaMall TM
PETS
PRIME CLASSIFIED ADS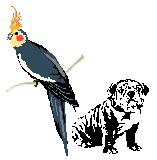 ---
Keep Your Pet Flea- and Tick-Free Without Chemicals, Poisons or Pesticides
Repels fleas, ticks, mosquitoes and all other external parasites
No harsh chemicals, dangerous toxins, poisons or pesticides, 100% safe for animals and humans
Effective for up to 4 years
Water resistant
Effective on dogs and cats of all weights, sizes and ages, including newborns (can be used on humans too!)
Product is effective on pregnant, convalescing and/or ill pets
No odor - 100% odorless

Pet Protector works by producing Scalar waves, creating an impenetrable, protective shield around your pet's body.
Officially tested & proven with a 96.67% efficiency rate, Pet Protector successfully protects 25+ million pets around the world. Get yours today! 

http://www.petprotector.org/products?ID=55250 or http://www.getpetprotector.com

Exp: sponsor
---
dog training unlimited online consultations 39.95
Over 216,232 dog owners, over 25 behavioral problems, unlimited online consultations, $0 shipping
Email: crteexp@fastmail.fm

Exp: sponsor
---
ADORABLE AKC REGISTERED ENGLISH BULLDOG PUPPIES

AKC registered home trained Male and Female English Bulldog puppies for Adoption to humbled And lovely Family.
They are gorgeous and adorable. We have two puppies,they are currently on their vaccinations and veterinary, come with all necessary documents that concerns them. They are pure breed.

Email: charlotmilner@ymail.com
Exp: sponsor
---
STREETDON..It's the new BRAND! pet clothing!
STREETDON... It's the new brand, the new trend for pet clothing, t-hirts, hoodies, caps, & outerwear.. please check us out, http://www.zazzle.ca/streetdon
Exp: sponsor
---
Super nice Bully looking hybrid 3/4 English Bulldog pupps

Beautiful Bully are available for their new homes!

They are 12 weeks old and are ready to go!

They have already been vet checked and are current on all shots and worming!!!.

They are champion sired by CH.

Exact Classic Comet.

They will come with a 1 year health guarantee and they are AKC registered!...

Email: puppslovinghome@att.net

Exp: sponsor
---
CKC Goldendoodle Puppies



Adorable, easy to train, very loving and companion oriented.
The Goldendoodle has one of the sweetest personalities and temperaments you will find in a full size dog.
Adult size will average 85 lbs. Black Phantom coloring.
Their fur will develop their curl about 1 year of age.
1 Year Health Guarantee against hips, eyes, and heart defects, spaying required.
Born June 2, 2014, puppies are utd on shots and have been dewormed and vet checked. Includes puppy starter kit, collar and leash.
Willing to travel up to 3 hours to meet serious buyers.
Pictures of our 4 Females ($700.) are available at www.northlandgoldens.com or call today to place a deposit to hold one for you. (906)647-six5two5

Exp: sponsor
---
DAHSHUND BREADERS
Always great puppies in all colors
for more info email: dachshund@aol.com

Exp: sponsor
---
BROWSE CLASSIFIED ADS
Note: free classifieds are located after Prime classified ads (last page in each Category)
Advertising | Art/Antiques/Collectibles | Auctions | Automotive | B2B
Books | Businesses for Sale | Business Merchandise | Business Opportunities
Business Services | Computers & Software | Domain Names | Employment | Gifts
Health & Fitness | Home & Garden | Import/Export | Internet Related | Mail Order
Miscellaneous | MLM | Music | Real Estate | Personals | Pets | Sports & Recreation
---

BROWSE ENTIRE MALL
---
---
---

ONLINE SINCE 1996

© Copyright - Now Intermedia, Inc. All rights reserved.

Names used throughout 1America Mall site are trademarks of their respective companies.