1AmericaMall TM

---
We are proud to present over 60 Awards We've Won
PAGE 7
---
I was very impressed by all the hard work you have put into the site and have to congratulate you on an outstanding achievement in web site design, both in appearance and content.

I just wanted to add that the information you have made available on your site is informative and a wonderful resource for web site editors. Congratulations on an excellent resourceful web site. (1second.com).
05/24/98
---
Congratulations!
Your Site has been listed on the People's Choice WebSite 500 and awarded CyberTeddy's Top 500 WebSite award.
...Original WebSite 500 since May 31, 1995 Less Search, More Surf. EveryThing You Want Online. All In One Place.
07/14/98
---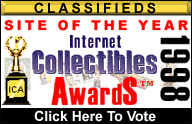 CONGRATULATIONS! -- As Commissioner of The Internet Collectibles Awards (ICA), I want to congratulate your website on being selected as an ICA - Site of the Year for the category of classifieds.
06/14/98
---
Congratulations! Your page http://www.1second.com/1america.htm has been selected to receive a Links2Go Key Resource award in the Advertising topic The Links2Go Key Resource award is both exclusive and objective. Fewer than one page in one thousand

will ever be selected for inclusion. Further, unlike most awards that rely on the subjective opinion of "experts," many of whom have only looked at tens or hundreds of thousands of pages in bestowing their awards, the Links2Go Key Resource award is completely

objective and is based on an analysis of millions of web pages. During the course of our analysis, we identify which links are most representative of each of the thousands of

topics in Links2Go, based on how actual page authors, like yourself, index and organize

links on their pages. In fact, the Key Resource award is so exclusive, even we don't

qualify for it (yet ;)!

Once again, congratulations on your award!

Links2Go Awards
07/22/98
---
Stopped by your site --- Terrific pages. Great Design. Great contribution to the

World Wide Web. I am much impressed. I am awarding your site the Cyber Excellence Award.

Ernest Slyman
09/01/98
---
09/02/98
---
[ DISCLAIMER ]
---
---
ONLINE SINCE 1996
© Copyright - Now Intermedia, Inc. All rights reserved.
Names used throughout 1America Mall site are trademarks of their respective companies.