1AmericaMall TM

---
We are proud to present over 60 Awards We've Won
PAGE 2
---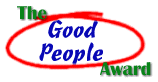 Congratulations. You have won our award.

Thank you for helping to promote honest and moral content to the Internet.
01/10/98
---
Congratulations!

You´re site has gone through some serious testing here at the webcenter and it has passed with honors.

regards,

Daniel Lidén wetwired.com
01/10/98
---
---
Congratulations! After reviewing your site, we are pleased to present you with the Market-Tek Design Award!

In reviewing sites for our award, we look at content, graphics, the purpose of the page, and the experience of the page writer.
11/18/97
---
Surfin' Pick Of The Day 11/12/97
---
[ DISCLAIMER ]
---
---
ONLINE SINCE 1996
© Copyright - Now Intermedia, Inc. All rights reserved.
Names used throughout 1America Mall site are trademarks of their respective companies.